History of The Police Whistle
By Martyn Gilchrist
(This copyrighted article was specially written by Martyn Gilchrist, author of Whistles, More Whistles, (and with Simon Topman) Collecting Police Whistles)

It is now over 200 years since the police first used whistles. The Thames Marine Police had bosuns' calls at the end of the 18th century, and city police used whistles from around the 1820s. Originally they were not an item issued to every officer but were kept for special operations and situations. These early whistles are not identifiable as they did not have any special markings. They would have been round pea and Beaufort whistles; the latter is a conical shape. From the 1860s some forces began to equip all officers. The Metropolitan Police issued a few whistles in 1870 but they were little used. However, when used they proved to be ideal. The Liverpool Police were equipped with Beaufort whistles probably made by Thomas Yates and, during the 1880s and 1890s by W Dowler & Sons, J Hudson & Co, J Barrall, R A Walton, and from about 1900 by A De Courcy & Co.

What today we know as the 'police whistle', the general service whistle (GSW), is a well known pattern that has been made since the 1860s. Who originally designed it is not known, possibly J Stevens & Son who made whistles from at least the 1840s. Manchester City Police was supplied with the GSW in the early 1880s and one of their whistles was employed later in tests by the Metropolitan Police when they were investigating the feasibility of replacing the rattle with the whistle. Part of their investigations included asking the views of twenty constables each with a considerable length of service. Fifteen preferred the whistle as the rattle was seldom used, being cumbersome and awkward to get out of the pocket.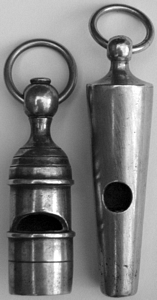 Photograph 1: (left) Typical round pea whistle, (right) Typical Beaufort whistle

In 1883 tests were carried out in open country with favourable wind conditions, at the Rifle Range, Hunslow Heath. A regulation rattle competed against a Manchester City Police whistle. The official tests showed that the rattle could be heard faintly at 500 yards and not at all at 800 yards. The whistle could be clearly heard at 900 yards but was ill-defined at 1000 yards. The Metropolitan Police decided to go ahead and advertisments were placed in the press inviting whistle manufacturers to submit models. Exactly how many companies submitted whistles is not known but three names are on record; C J Piejus & Co, Bent & Parker and J Hudson & Co. The various whistles submitted were tested on Clapham Common and one of the patterns sent by Hudsons, similar to the Manchester City Police whistle, was chosen. A mix-up led to the contract being placed with Bent & Parker. (Interestingly, Joseph Hudson, the founder of J Hudson & Co, at some time in the 1860s worked for Bent & Parker, having started work, aged 12, in 1860).

Joseph Hudson was informed that a whistle had been chosen but not whose model. He wrote asking for his whistles to be returned, and also made inquiries as to whose pattern had been chosen. Discovering that his own whistle was the chosen one, but the contract had been placed elsewhere, he contacted the Metropolitan Police who quickly put right the mistake. On the 8th January 1884 the Metropolitan Police Receiver wrote to the Commissioner informing him that an order for 7,000 whistles at eleven shillings (55p) a dozen had been place with J Hudson & Co (within two years 21,000 had been ordered and delivered). In March 1884 the original order was completed and the whistles, each with a chain and button hook, were tested at the Birmingham Small Arms factory, each passing test was stamped with an inspection mark on the loop. For a week during March 1884 subscribers of the United Telephone Co could ring the Pall Mall Gazette and hear a member of staff sound one of the calls. In April 1884 a superintendent wrote to the Commissioner proposing that the whistles be numbered to avoid difficulties. The Commissioner agreed and all the calls were consecutively numbered. This number is the whistle's number and not the officer's number, though in some other forces it is.

In January 1885 a member of the public, Mr H Crosbie, wrote to the Commissioner saying he had purchased two Metropolitan Police whistles but could he use them? The whistles were advertised in the Illustrated London News and were made by Bent & Parker. Tit Bits magazine made it known that J Hudson & Co were also selling Metropolitan Police whistles to the public. The legal position was unclear but steps were taken to prevent further retail sales. This was done by requiring both companies to sign a legal undertaking not to sell whistles marked 'Metropolitan Police' to anyone other than the Metropolitan Police.

On 2nd February 1884 Hudsons applied for 'The Metropolitan' to be registered as a trademark for GSWs, which was granted. Whistles issued to police are marked with the forces name and most were also marked with the trademark 'The Metropolitan'. The phrase 'Metropolitan Police Whistle' is ambiguous as it can mean a GSW issued to the Metropolitan Police or, more frequently, it refers to a GSW with Hudsons' trademark.

After the adoption of the GSW by the 'Met' many other forces began to equip all their officers, and those already using the Beaufort whistle exchanged them for GSWs (Some Scottish forces, notably Glasgow Police who used round pea whistles, changed to escargot whistles). The GSW could be held in the teeth keeping the hands free but this was not possible with the Beaufort. Hudsons were not the only manufacturers and three other companies, W Dowler & Sons, A De Courcy & Co and J Barrall between them supplied appreciable numbers to many forces. Today, practically all GSWs can be dated to a few years, broad guidelines are given below.

J HUDSON & CO. The company moved four times; their addresses enabling quick dating of not only Metropolitan Police issue calls but for other forces as well. Practically all first issue 'Met' whistles were eventually sent back to Hudsons for repair as an internal component, the diaphragm, was prone to failure. Hudsons quickly redesigned and patented a new type in 1885.

Whistles made at the 244 address until 1922 have the top cap stamped 'Patent 5727.08', after that date it is plain. 'Met' issue calls marked 'Barr Street Hockley' date from about 1937. The last issued whistles marked 'Metropolitan Police' are from c.1938 and have no address at all.




Officially Verified Hudson Addresses

84 Buckingham Street
1883 - 1884
131 Barr Street
1885 - 1888
13 Barr Street
1888 - 1909
244 Barr Street / Barr Street Hockley
1909 onwards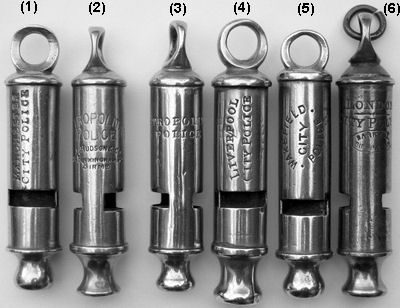 Photograph 2: (1) J Hudson & Co, c.1882, Manchester City Police (2) J Hudson & Co, 1884, Metropolitan Police first issue. Typical refurbished mouthpiece & diaphragm (3) Bent & Parker, 1885, Metropolitan Police (4) A De Courcy & Co, 1910s-20s, Liverpool City Police (5) W Dowler & Sons, pre-1901, Wakefield City Police (6) J Barrall, 1890s, London City Police

BENT & PARKER. The company is a special case. They only made about 2,000 whistles marked 'Metropolitan Police' for the retail trade. When this was prevented by the Metropolitan Police the stock of calls was purchased, numbered, and officially issued in 1885.

A DE COURCY & CO. Founded by Alfred De Courcy, a talented engineer and one-time Hudson foreman, who left in 1888 to start his own business. He supplied many forces from about 1900 but sold the whistle making section of his business to Hudsons in 1927.

W DOWLER & SONS. The company directly supplied a good number of forces until c.1904. After this date they sub-contracted Hudsons and De Courcy to make calls on their behalf, but marking the whistles with Dowlers name. All calls marked '94 Great Charles Street' were made by Dowlers. In 1900 they moved to 'Graham Street'. Whistles made with this last address could be by Dowlers, Hudsons or De Courcy. The differences in the design of the internal components is the best way to determine who made any particular GSW.

JOHN BARRALL. A Birmingham manufacturer operating between 1886 and 1898. His whistles are sometimes marked 'Warrented Perfect'. He is thought to have supplied only Birmingham, Liverpool and London City police.

Today, police issue whistles are enthusiastically collected with the earliest items and those supplied to forces which had a small number of officers being particularly keenly sought. Information is now available enabling in most cases dating to within a few years. Nearly all the names of forces supplied, and by which manufacturer, are also known.